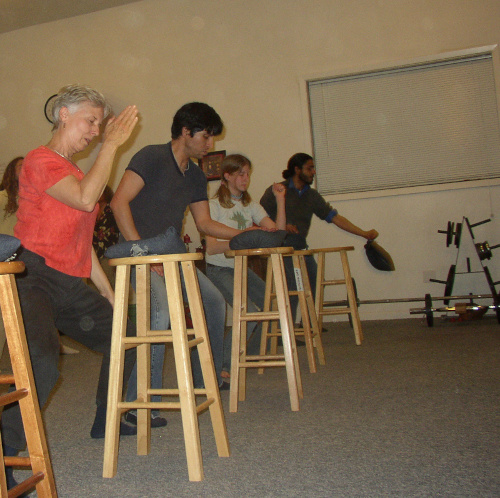 Golden Shield Qi Gong classes are offered on an ongoing basis. Students can join Qi Gong class by contacting me prior to class. We will setup a starting date for you to join the class.
Golden Shield Qi Gong classes are best suited for people who are more serious about learning to work with Qi, and build more internal energy. Of course it is also fine to try it out for a month to see how you like it. Your minimum commitment is just one (1) month ($125). No long term commitments are required. And great benefits can show up even with a small amount of practice.
Qi Gong Classes
Class
Day
Time
Location
Availability
Golden Shield
- Abdomen
Sundays
10:00am
Flow Yoga Westgate
4 openings at this time
Golden Bell - Torso
Sundays
10:00am
Flow Yoga Westgate
This class is not open to new students. Contact instructor for more info.
Golden Crown - Head
Sundays
10:00am
Flow Yoga Westgate
This class is not open to new students. Contact instructor for more info.
Advanced Legs
Sunday
2:00pm
Zoom
This class is not open to new students. Contact instructor for more info.
Qi Gong Classes - Qigong Class is usually 90 minutes long. Includes meditation, lecture (Q&A) and practice.
Students are encouraged to attend class as often as possible.
This is an in-person class which is located at Flow Yoga, 4477 S. Lamar Blvd #420, in Westgate Center - MAP
There are no online classes being offered at this time for beginners. All beginner classes are in-person.
Cost - $125 per month, plus $5 - $10 month for herbs and training supplies.
Cost includes ongoing consultation with instructor and the option to attend any of the Golden Shield Qi Gong classes throughout the country.
Training is done with a month-to-month commitment. Your minimum commitment to start is for one month of training (tuition cost is $125, plus herbs and manual $13. Total $138) You may suspend or stop your training whenever you wish. To do this all you need to do is send me an email prior to the 1st day of the coming month. You will not be billed again as long as I get your email before the beginning of the next month.
Since Golden Shield is not a normal drop-in kind of class, I like to speak with everyone before they begin. Spending a few minutes on the phone is also a great time for you ask any questions, as well as getting to know me a little bit. I am more than happy to meet with you in person if that is what you need to feel comfortable about starting.
Getting Started - New students are added to the qi gong class at both the beginning, and middle the month. From time to time I make exceptions to this depending on the circumstances.
If you are interested in beginning the practice please go to my contact page and send me a message. I will contact you back and we can set up a time to chat briefly. After that I will email you some paperwork which needs to be completed prior to starting. And after that you are good to go! Ready to start!
And if now is not the right time? But maybe sometime down the road might be?
Add your email to my mailing list.
(Your email will never be sold or given to anyone. And you can unsubscribe at any time.)
Sign up to receive info about upcoming classes.
Hi my name is Tim Chrisco. In 1996 I became a student of Golden Shield Qi Gong and began my personal practice. In 1998 I received my Golden Shield Instructor certification and began teaching this system to others.
I have been very fortunate to have Dr. Dongxun Zhang as my primary instructor since I began practicing in 1996. Dr Zhang is the Master and lineage holder of this system. I can easily say that this practice has been, and still is, the most amazing thing that I have ever done in my entire life. It is so rich and so complete. Words can't explain it. I am so grateful to have the opportunity to learn and share this incredible practice.
Read what our students have to say...
The home base of Jingui Golden Shield Qi Gong is Austin Texas.
The master of our system is Dr Zhang D. AOM, L.AC.
Dr Zhang lives and works here in Austin.