Intro to Golden Shield Qi Gong
Intro to Golden Shield Classes - Super Strong Immune Function, Strong Healthy Bones and Joints, Stress/Anxiety Relief, Anti-Aging.
In our classes we will have a core focus on building a stronger immune function. This strengthening happens as a natural part of doing this style of QiGong. We simply add a little more focus to this outcome in order to amplify the benefits. Some of the class series that are offered are: strengthening bones and joints, removing stagnations and blockages, reducing stress/anxiety, and anti-aging.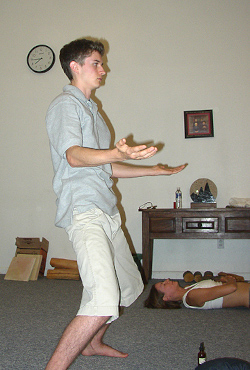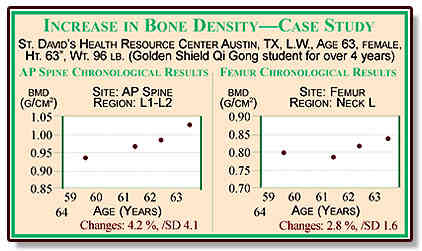 Intro to Golden Shield


Strong Bones and Joints Class Series
Most people start experiencing some bone degeneration in their 50s and beyond. Some start even earlier. Again, in the beginning stages this is not usually something that we physically notice. And as a side note... weight lighting is not the total solution to this problem as is commonly thought. If it was, NASA would not be desperately looking for a solution to the bone degeneration that astronauts suffer from after extended time in outer space.
It is helpful to challenge our body with weight bearing exercise, but weight bearing exercise is only part of the solution. More is needed if you want strong healthy bones for your whole life. We have the solution.
Check the table below for dates and time info.
Intro to Golden Shield are great classes if you are wanting to learn how to work with your energy:
How to build more Qi.
How to effectively and correctly circulate your Qi.
How to call your Qi back into your body.
How to correctly and effectively store your Qi.
How to use your Qi to deeply ground and center yourself.
How to stop unwanted empathetic experiences.
How to reduce stress and anxiety.
How to heal yourself.
...and more!
I look forward to meeting you. Thanks for visiting my site.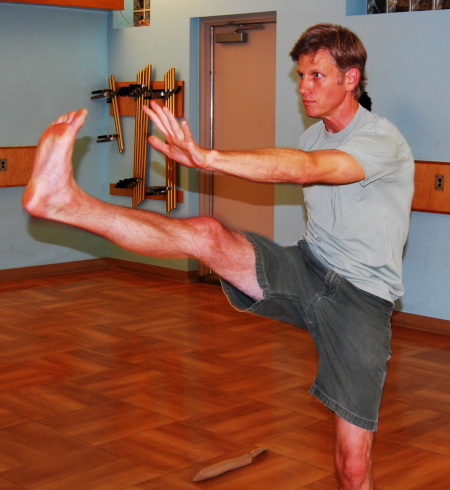 | Class | Class Dates | Time | Cost | Location | Address |
| --- | --- | --- | --- | --- | --- |
| Strong Bones and Joints Intro to Golden Shield | September 2, 9, 16 | 10:30am - 11:30am | $15 | Flow Yoga Westgate | 4477 Lamar Blvd, Ste 420 |
| Reduce Stress/Anxiety Online Meditation Class | To be determined | 10:30am - 11am | Donations | Online | Zoom - email me and request a Zoom link |
| Free Intro/Demo | September/October | To be determined | Free | Flow Yoga Westgate | 4477 Lamar Blvd, Ste 420 |
Like to try a Class?
Use the subscribe form below to add your email to my mailing list. 
---
I will never sell or give your email away.
You will not get tons of emails from me. Just class info.
You can opt out (unsubscribe) at any time.
Have a question? You can text me at: 512-537-3365 (text and vm only number). If you want to chat on the phone let me know in your text. I'll call you back from my cell phone.