Intro to Golden Shield Qi Gong
Intro to Golden Shield Class - Anti-Aging, Strong Healthy Bones and Joints, Super Strong Immune Function
One of the best ways to think of this class is to use the analogy of trying out a sample in the grocery store. We have all done it. You are walking through the store and you come upon a display where the person behind the table asks you if you would like to try a sample of the food they are representing.
Trying out a sample is a great way to get all kinds of information about the dish. It is not designed to take the place of your meal. It is meant only to serve as a sample. You like it, and you want more, you buy the whole dish. If you don't like it so much, you walk on, and find something else that suits you better.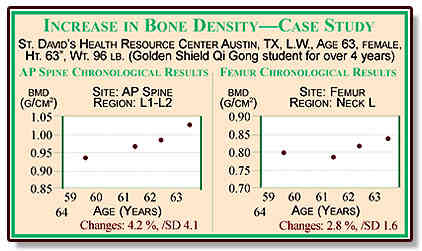 Think of our Intro to Golden Shield Class as a sample. Our Temple Style Training is the whole dish. Of course in this case, even though the Intro is designed to be a sample, regular practice of the forms learned in our Intro classes can still be very beneficial.
In this class we will have a core focus on Anti-Aging. Anti-aging is built upon a strong structure. So we focus on strengthening our bones and joints, as well as techniques for removing stagnations and blockages, plus building a stronger immunity.
As for bones and joints... many people do not give this part of their body much thought, unless it is causing them problems. That is sort of like driving around with slow leak in one of your tires. If you do nothing until your tire is completely flat you have a problem. If the flat happens at rush hour on the Interstate, and it's 105 degrees out side, you have a really big problem.
In Golden Shield we believe it's good to do the big things while they are they are still small. Strengthen your bones and joints before the doctor tells you it's time for a joint replacement.
Most people start experiencing some bone degeneration in their 50s and beyond. Some start even earlier. Again, in the beginning stages this is not usually something that we physically notice. And as a side note... weight lighting is not the total solution to this problem as is commonly thought. If it was, NASA would not be desperately looking for a solution to the bone degeneration that astronauts suffer from after extended time in outer space.
It is helpful to challenge our body with weight baring exercise, but it is only part of the solution. More is needed if you want strong healthy bones for your whole life. We have the solution.
In this class (Intro) you will learn the beginning techniques for correcting this problem. These forms are similar to what you would learn in our Temple Style Classes.
For instance in Temple Style we have Hand training (Golden Brushes) which includes the shoulders, arms, hands and fingers. We have Leg training (Golden Pillars) which includes the hips, knees, feet and toes. We also have Torso training (Golden Bell) and Head training (Golden Crown) which covers all the other bones and joints in your body. The beginning training for each of these levels starts off with simple, playful forms that step-by-step progress you up to a training which you would have to see to believe.
And btw... if you still want more, we also have Advanced Hand training and Advanced Leg training. These trainings contain very high level Taoist techniques.
In this Intro to Golden Shield Class you will learn how to bring more Qi into your body. You'll learn how to train your body to make more Qi. You'll learn how to use this Qi to do everything from relaxing more deeply, to strengthening your shoulders, lumbars, hips and knees (and more). You'll also experience an increase in circulation of Qi, Blood and fluids. This will lead you to more vitality. More youthfulness. Basically start you down the road to Anti-Aging.
Intro to Golden Shield Qi Gong Classes
| Class | In-Person/Online | Day | Time | Cost | Location | Address |
| --- | --- | --- | --- | --- | --- | --- |
| Intro Class | Online - Registration required | Mondays | 11:00am - 12:00pm CST | $ to be decided | Zoom | Online - Zoom link will be sent at 10:00am CST |
| Intro Class | In-Person - Drop in | To be decided | To be decided | $ to be decided | Casa De Luz | 1701 Toomey Dr, Austin, TX |
| Intro Class | In-Person - Drop in | To be decided | To be decided | $ to be decided | Dick Nichols Park | |
Like to try a Class?
Use the subscribe form below to add your email to my mailing list. 
---
Below is a signup form for my mailing list.
I will never sell or give your email away.
You will not get tons of emails from me. Just class info.
You can opt out (unsubscribe) at any time.
Have a question? You can text me at: 512-537-3365 (text and vm only number). If you want to chat on the phone let me know in your text. I'll call you back from my cell phone.
Join my
Intro to Golden Shield mailing list
Complete the form below